Office Cleaning in London Provides A Smarter Work Place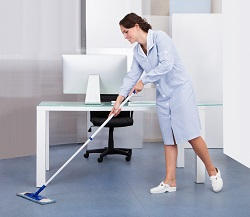 Office cleaning in London is an essential part of ensuring that the work place both functions and looks as it should do. You will find that whilst many companies in London offer cleaning services that cover a broad range of jobs, the reality of the situation is that you will struggle to find a team devoted to commercial cleaning practices as Cleaning House. We pride ourselves on being able to offer office cleaners of the highest standards, to ensure that everyone who uses us calls us back for more work immediately. You will see for yourself should you decide to trial us, that the level of depth and thoroughness with which our staff can clean your office is second to none. Whilst it is important that the place is cleaned well, the level to which our staff are trained in industrial cleaning means that they do not take hours over simple things, making sure that your office clean is efficient. Whether you look at it as hygienic cleaning or aesthetic, you will get an excellent deal from us. Book with us today on 020 3695 7661!
London Office Cleaners Professionals in Every Aspect of Work
Office cleaning is not something that can be left to wait, so give us a call as soon as possible on 020 3695 7661. Get in touch today to find out how you can make some seriously good savings. As a business, you need to ensure that every deal that you make makes sense for the company. And the same is valid when you hire an office cleaning service in London. Having an office cleaner who is diligent yet quick will mean that you get the place looking great in the minimum time, which means a lower price on the hourly rate. We value our regular customers, but will also do one-off jobs for those who need one time commercial cleaning, for events and office parties. If you feel like you need to go beyond the daily clean, we offer carpet and upholstery cleaning to ensure that every single aspect of your office, from the floors to the seating is made to look its absolute best. There is little point in having an office if it is left in disrepair, as a dirty place is difficult to concentrate in, and clients will not be impressed if your work place is not looking sparkling at all times!
Experienced London Office Cleaning Company Will Clean Every Area of Your Office
Office cleaning is not just about how the area looks, but just as much about ensuring that the health and safety standards for the work place are met. We take cleaning very seriously, ensuring that there is no chance that the place could fall below inspection standards. This means that we can apply our Industrial cleaning skill and knowledge to your office, to guarantee that the resulting clean covers your bathrooms, kitchens and communal areas. Whilst having a cleaner is an obvious necessity, you may not have given much thought to your selection, thinking that all cleaning companies are the same.
Get the best Office Cleaning Deal in London Today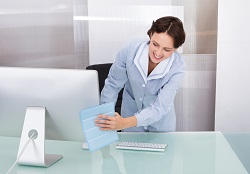 However, if you need a really skilled and experienced team to get the job done properly, then you should try out Cleaning House. We give you the best in floor cleaning, and our trained and experienced office cleaners in London know exactly how to tackle any stain or mark, to guarantee that your place of work is left looking immaculate. With regards to securing a good deal from us, why not get in touch with us on 020 3695 7661 now to hear all about our excellent offers and deals. We aim to make every budget work, and to get every office in London as clean as it should be!
Save